BY JB
When Andrew Voss names a player alongside Benji Marshall and Matty Bowen, you're bound to tune in.
Especially if said player is signed to your club.
Adrian Trevilyan isn't a household name amongst Raiders fans yet, but he's definitely one you want to watch.
He's shuffled up one position and is currently third in the pecking order of hookers at the club, but all that could change based on the Hodgson situation.
The young Queenslander currently sits behind both Josh Hodgson and Tom Starling. But prior to that he was also behind Siliva Havili at NSW Cup level too and the fact Liva has left the club now should tell you they're looking for opportunities to promote "Trev".
Patience will be the key as we watch the progress of a schoolboy star transitioning talent into becoming a full time NRL player.
From the fans, coaching staff and from media pundits. There's pressure to perform.
Take for example the wraps from Andrew Voss of naming Trevilyan at #9 in the greatest schoolboy side that he's ever seen. That list contains names such as Benji Marshall, Craig Gower, Matty Bowen and Payne Haas.
Good little players.
Former Raiders coaching consultant, and fair exponent of hooking talent, Mick Ennis has massive wraps on him too.
"Their stocks in the dummy half role are excellent," Ennis said.
"Young Trevilyan, who's been a well-known schoolboy up in Queensland, but unfortunately with the COVID situation it hasn't given him the opportunity to show what he's capable of, but he's got a wonderful passing game, he's got good speed out of dummy half.
"There's definitely a player there that's got a good future in front of him."
Trev came to the Raiders from good stock and with a national schoolboys title alongside good mate and fellow Raider Brad Schneider for Kirwan State High in 2019.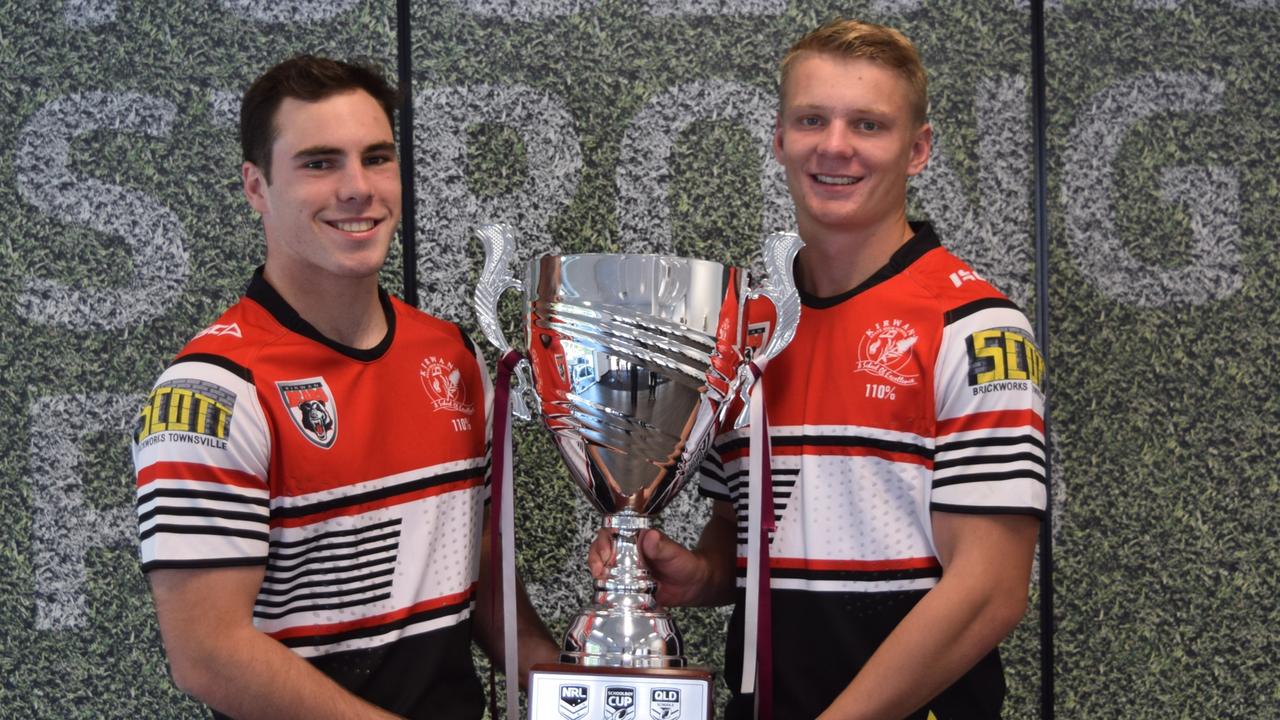 He was the standout in that final and joined an illustrious list of players to win the Peter Sterling Medal as the most outstanding player in the competition.
Previous engravings on the medal include David Fifita, Payne Haas, Ryan James and Adam Reynolds.
So what do we know about this talented young rake?
Growing up in far north Queensland, Trevilyan was a Burdekin Roosters junior. Who says Roosters don't have juniors?
Trying out multiple sports, he was a talented athlete who played cricket, Aussie Rules and basketball as a junior.
He started off on the Cowboys books as a teenager and played for the Townsville Blackhawks while he chased his rugba league dream. Showing a lot of promise from an early age he made the Emerging Origin U/18's squad where he played alongside Tino Fa'asuamaleaui, Ronaldo Mulitalo, Tanah Boyd and current team mate Elijah Anderson.
Then the Raiders snapped him and Brad Schneider up as a package deal after their school boy heroics.
In the crazy year of 2020 he helped the Raiders U20's side to the Canberra Cup title against the local A Grade men's sides.
He's a locker room guy. Very popular amongst team mates and a character off the field. Always smiling. Great attitude.
But there's still a way to go yet in this story…
You see, hookers don't grow on trees. It's one of the hardest positions in the game to find a genuine star. Particularly at a young age.
How many Raiders hookers you can think of that have started for the Raiders in the last twenty years? This is my Jeapordy category.
Josh Hodgson has had a mortgage on the position and prior to that we had Glenn Buttriss, but outside of that, there's slim pickings.
The list below shows the total number of games each player started at hooker:
Josh Hodgson – 133 games
Glenn Buttriss – 82
Alan Tongue – 50
Lincoln Withers – 44
Siliva Havili – 26
Travis Waddell – 25
Ryan Hinchcliffe – 11
Tom Starling – 10
Matt McIlwrick – 5
Shaun Berrigan – 4
Kurt Baptiste – 3
There are seven other players who started one or two games at hooker and even then only Adam Clydesdale was a genuine #9.
Now filter that list down by players who have come up through the junior ranks and you are left with just Travis Waddell. And we all remember how that didn't end up. Plenty of promise, but didn't deliver on that potential in first grade.
Embed from Getty Images
So what's next for Trevilyan?
Well he needs to get more experience playing against men at the NSW Cup level. He joins the dozens of young players who's career progression has been halted by COVID.
He played 12 games for reserve grade last year but only started in two of those. Amongst those games he had five try assists and no tries. His defence was solid with only 16 missed tackles from 255 tackle involvements.
He's quite wiry for a hooker and still needs to put some meat on the bones but the footy brain is already well established.
The best case result for Trevilyan is some bench time behind Starling or Hodgson in first grade this year. They'll need to give him a taste to keep him interested.
He's a modern hooker with a zippy frame but the concern is he's primarily a hooker and won't offer Ricky the utility value he looks for on his bench.
Ricky might instead opt for Schneider in #14 to cover the halves and hooker.
All said and done he's an exciting prospect and we hope he gets his opportunity, at the Raiders, sooner rather than later.
Hodgson only has one more season (if that) and Tommy Starling hasn't yet proven he's an 80 minute hooker or even that he can complete a full season.
So start learning how to write the name Trevilyan – there's plenty still to come.